After I'm done checking my emails and replying messages, I usually browse online to read the current events and see some celebrity lifestyles. Right now, I've seen lots of celebrity kids donning their Halloween attire and I really find them cute. While others are wearing scary costumes, some kids are wearing animal costumes and toddlers are wearing sports attire and even using wearing baseball hats. They really look so adorable, I just can't take my eyes off them.
If you are currently looking for a costume for your tot, you can try shopping for toddler baseball hats for boys and other nice costumes for girls at any online stores. You can also visit Spencer's Gifts Directory to help you browse what you are looking for. You can buy them for a very low price because they are on sale right now. You can even buy one for yourself if you want. Right now my eldest child wanted to be the vampire queen and I am looking for a nice costume for her. She wanted to join trick or treat in one of the establishments while wearing her costume with her friends and I thought of joining her. I don't know what costume I'll pick for my two year old girl but I might get her pumpkin attire. Her snow white costume is already tight for her so I don't think that will fit her anymore.
Anyway, if you have a hard time shopping for a costume, just refer to the site I mentioned here. They have lots to offer at a very low price that I'm sure you just can't resist it.
This is Chloe's little black dress (it's quite crumpled coz Chloe already wore it):

My eldest daughter had her first violin recital last May 28 at Grand Caprice and she was told to wear a gown. I thought of renting a gown but when I inquired, it costs around P690-P900! Whoa, I can already buy her a dress with that amount. Are they kidding me?! And to think the rented gown should be returned 2 days after use. Only nuts will grab that! Sorry, if you're one of the nuts, haha. But I was almost tempted because in another rental stores, the dress was around P300-400. Hmmm….
Good thing my daughter was still rehearsing at that time so I had time to think. In fact, I went to SM and Limketkai Malls but I didn't find what I like. Oh, I saw one at SM but it costs P899 and the dress was not even that long. I almost forgot that we had Gaisano City Mall. When my daughter was finished rehearsing, I brought her with me to G-Mall. Hubby and little Zoe tagged along. Chloe found a gown that she liked. It was colored indigo blue. It was indeed a nice gown for she looked like a cake, hehe. It was so flowery but I thought of her going onstage to play the violin. She might tripped on it for there was a petticoat underneath. Besides, it still costs P710 and I ran out of money! Did I mention that I paid P1000 for the recital and even bought 2 additional tickets for my in-laws for P500?
I went to another section of the mall and found the dress that would look good on my daughter. Hubby agreed with me. I let it fit on my daughter and she looked elegant. But her mind was on that indigo blue gown, dang! Hubby and I tried to compliment and influenced her. She reluctantly agreed because it was me who was going to pay. I didn't even think of buying her new pair of shoes coz I recently bought her a purple-colored wedge. That's how thrifty I am when I have to. Curious how much the little black dress costs? It's P275, hehe. Great bargain huh?
Chloe was murmuring inside the car on our way home. She was NOT in the mood! But she finally had a change of heart when I let her wore my set of jewelries. She looked stunning I thought she was going to the prom, haha. So, I leave the story to the pics posted below:
Finally, a smile on her face while she practiced and tried her dress at home – with jewelries
If we gave in to Chloe's demand, two of them will wear the same dress. Yes, her friend beside her wore the gown that Chloe wanted me to buy. They even have almost the same blue hair accessory.
Happily posing on the stage during her Violin Recital surrounded by white calla lily flowers
Closer look at Chloe (",)
Linking this post to: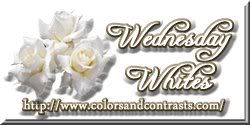 I was thinking of buying the shoes I found at Spruce for about P999 but when I tried to fit it, something was quite wrong. The shoes easily slides from my feet. I would have love to get it but on second thought, I might be humiliated wearing those if it slips on my feet in the middle of nowhere.
Then I happened to drop by at Guess shop and found a pair of black sandals. It fits perfectly on my feet and I was told it was for sale for a price of P1,799. Hmmm… I was thinking so hard. It was cute but quite expensive for a sandal even though they said it was for sale. Besides, I didn't have enough cash with me. I decided not to get tempted and returned the item back to the rack.
A week later, I was still in the mood of buying something for myself. I just got paid from blogging and it's been quite a long time I pampered myself. I checked at Guess shop again and found that the black sandals was already gone. Another color was available but they were either sizes 9 or 6.5…and I'm a 7. I found the fuchsia pink slippers and they looked so cute even my eldest daughter liked it so much. But it was size 6.5. However, it still fits on my feet. I was hesitant to get it but when I saw the price, it already went down to P1,200. As not to stay longer, I put it on the cashier table right away and bought the item!
Here's the sandals I bought and sorry I don't have a lovely feet. It looks more fat since I carried Zoe while I took this pic. I wish I could've painted my nails to make it look pretty, too, hehe.
Here's me and Zoe at the lobby of Pryce Plaza Hotel. I was comfortable in walking and carrying my baby.. thanks to my Guess sandals
Linking this post to:


My daughter, Chloe, had a haircut last summer at Tony and Jockey, owned by Korean nationals. Haircut was quite expensive but I want to try it with my daughter who was conscious with the way she looks after her new 'do. She said she looked like a Korean girl afterward, hehe.


Trimming of hair costs P300 at Tony and Jockey but around P250 for children ~ still quite expensive, eh? I usually had my haircut at David's Salon for P190 and that costs a lot already. I also had another alternative at Carlo Reyes which costs only P50. However, the latter is always full but if I'm lucky, I'd chose Carlo Reyes at Capistrano St.
When we went to SM, I bought this swimsuit for our upcoming family bonding. I had swimsuits but I seem to overgrown them. Or perhaps I got tired of them. I just want to wear something new, hehe. My old swimwear can still be worn but of course I wanted new design that will not showoff my tummy, lolz. After I gave birth to my second child, my tummy's bulges didn't disappear. Unlucky Me! And I'm certainly not comfortable wearing a high-cut swimsuit so I'll stick to shorts that still looks sexy, ahem
So, here's my swimsuit and I just love the haltered design. I saw the mannequin wearing this but not my size so I asked the saleslady to give me a Medium size. Good thing they still have one left that I bought it right away. I guess this costs around P799-P899. Gee, I forgot. I was too excited to use it that I wore it right away the very next day and throw the price tag. But am pretty sure this did not cost more than P1,000. I sure will not buy swimwear less than P500 coz they don't last long or will just simply slip out on the water and that will be very embarrassing.
Here's me after a dip in the pool
A closer look on my haltered swimwear
I posted this pic in my other blog and I'll post it here for you to know about this shirt. Obviously, my baby's wearing Baby Guess shirt. Original guess shirts are usually pricey. This little shirt costs P890 but since it was for sale, I bought this for around P590. Still pricey, huh? I just closed my eyes when I purchased this. I bought this because I felt pity on my second baby girl. Her clothes are usually hand-me-downs from her big sis and from other cousins. She rarely had a brand new clothes. So, please understand why I bought her this shirt. It's still a good bargain, huh? And isn't she cute wearing this pink shirt?

This is what most women (or even some men) do:
Yeah, it's called shopping! I rarely buy stuff for myself but when I do, I make sure I bought something worthwhile. Inside these bags, I bought a pair of wedge Zanea sandals, black dress from Cache that was for sale that I didn't hesitate grabbing it and shirts for me and kids from Guess. And I seem to agree that shopping is a stress-reliever, huh
I went home feeling great. I bought these from my blogging earnings so it was really nice pampering myself once in awhile. But right now, I'm back to my old thrifty-self. I'm currently setting aside my savings for my upcoming plans in a few months time.
I bought this headband from a friend for P199. I bought it right away after she published it on FB. I want this for me and for my eldest daughter. It looks cute. But just found out later that this was also sold in another store for less than P100. Hmmm… But that store was located in the middle of the marketplace and I'm not so fond of going to crowded places. So, I'll just have to tell myself that the P99 pesos I paid was for my convenience, lol.
I guess the lesson here is that, don't buy things in a rush. Do the research first if you can wait. But if you're in a hurry, I guess no one's stopping
Me and baby Zoe